How To Backup And Restore Wordpress Website
In this blog, you will learn how to backup and restore a Wordpress website. For more information on backing up and restoring a Wordpress website, read the article!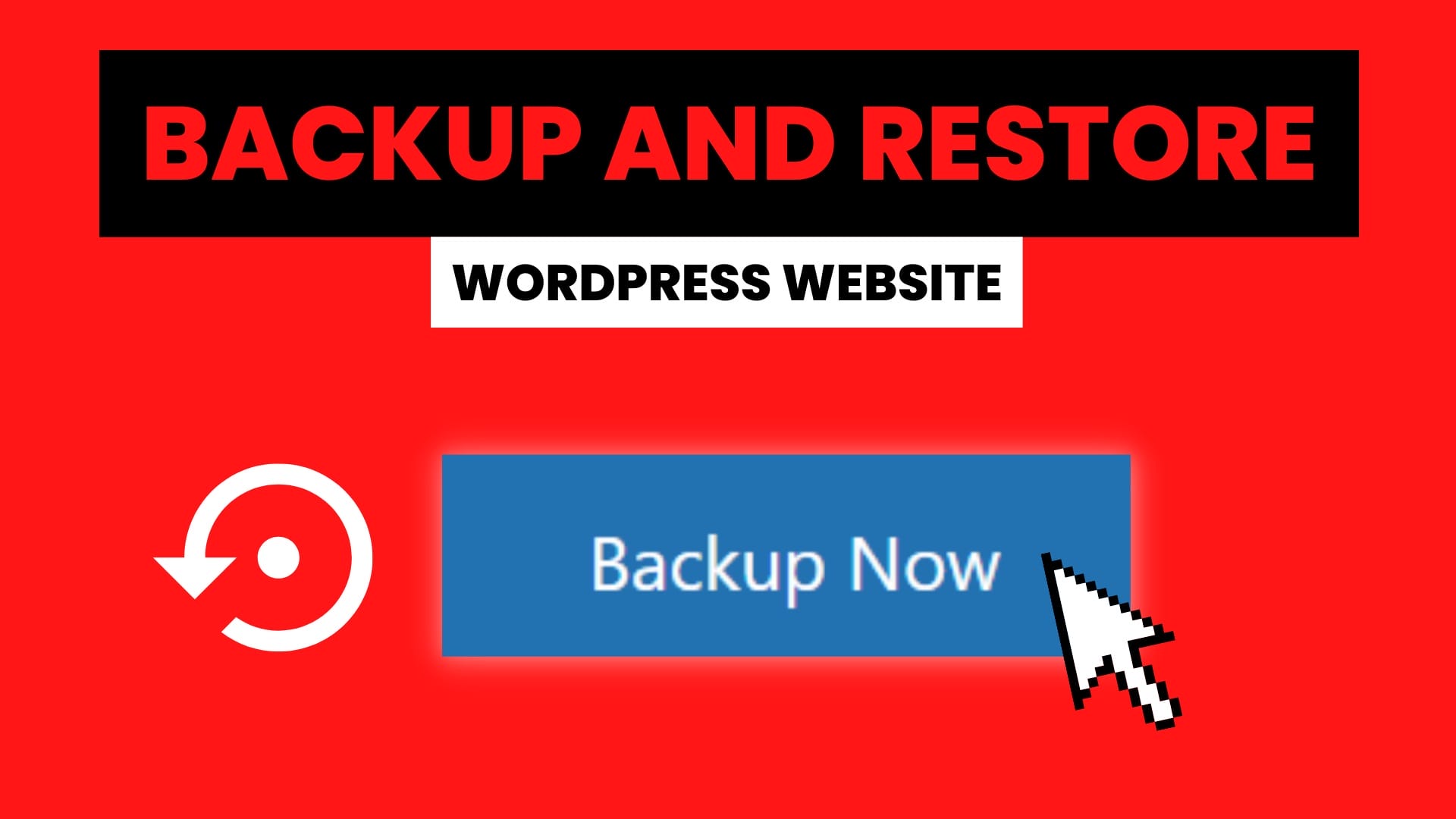 How To Backup And Restore Wordpress Website
If you are running a website and you do have not any backup so, you can lose your all data and if for some reason your website will crash then you will not get back your website, that's why you must have a backup option.
In this blog, you will learn how to backup and restore a Wordpress website. Here we don't need any paid plugins to do it, we just have to install one free plugin which is available on wordpress. Here I use elementor page builder, but there is no effect of page builders, you can do it with any wordpress page builder. But if you are searching for elementor pro, then here is the best link you can download the elementor pro from here: https://dcreato.com/go/elementor
So, we will learn the full process with a few steps so let's begin:
Install the plugin
Backup Files
Bottom line
STEP-1 INSTALL THE PLUGIN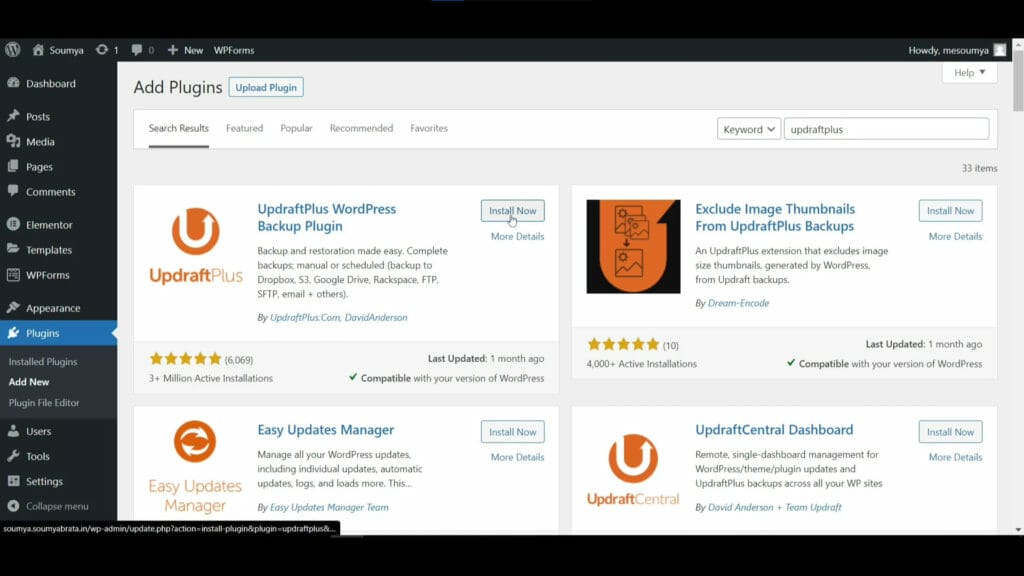 First, we have to install one free plugin named Updraftplus. Click on add new button and go to the plugin installer page and search for the plugin. You will see the Updraftplus plugin which has over 3+ Million Active Installations by David Anderson. It is the most popular and best plugin to create your website backup and restore the website. Just click on Install now button and after installing activate the plugin.
STEP-2 BACKUP FILES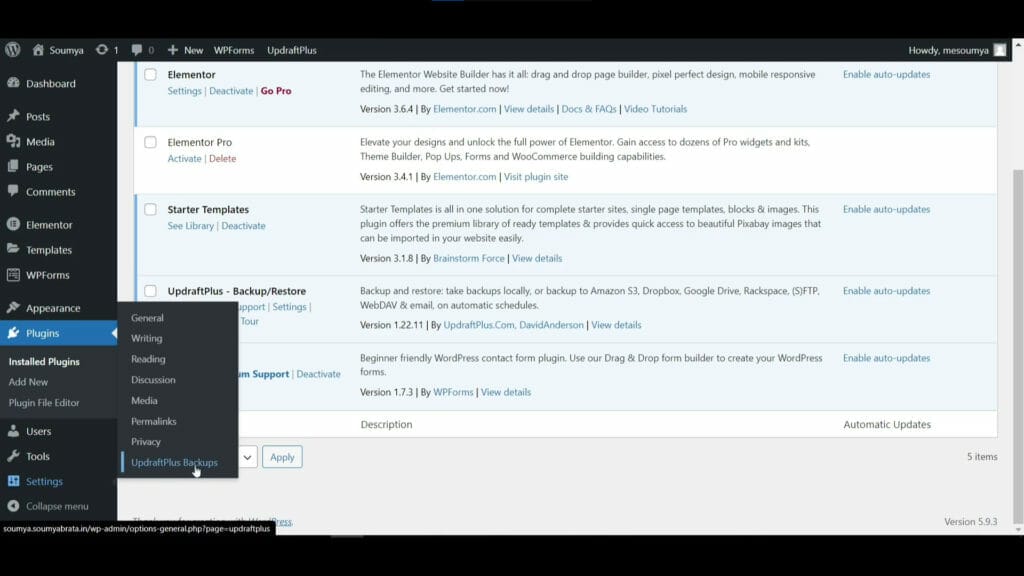 After activating the plugin we have to create a backup file of the website so to do that you can go to the options from the plugins page or you can hover on settings and you will find the UpdraftPlus backups. Simply click on that and you will redirect to the updraftplus page.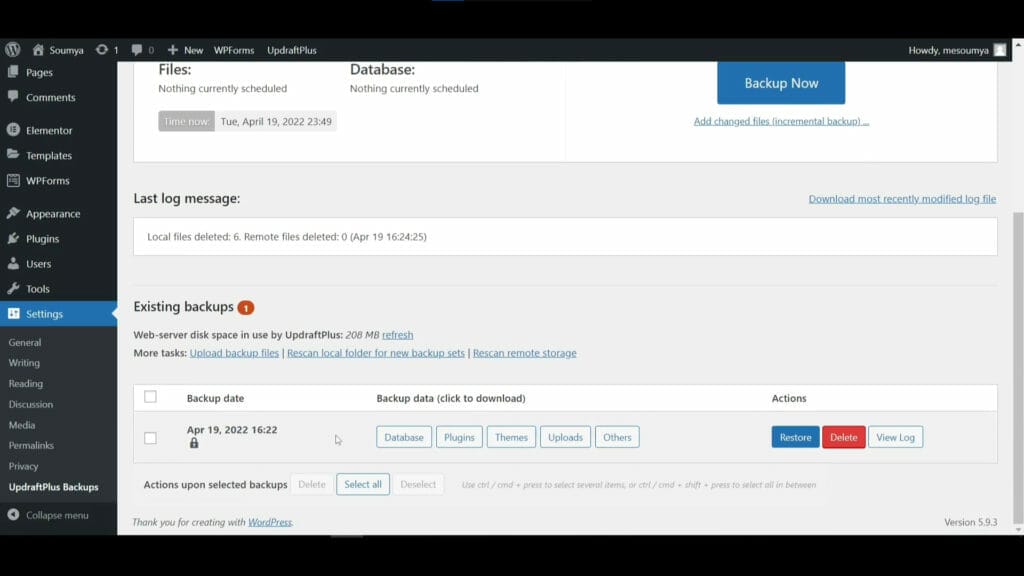 After redirecting you will see this interface where a lot of options are available here. But don't worry let me tell you step by step how to do all of these. Here you can see that a backup is already created because I installed and created a backup before. But in your case you will not see any backups so, what you have to do is click on the big Backup Now button.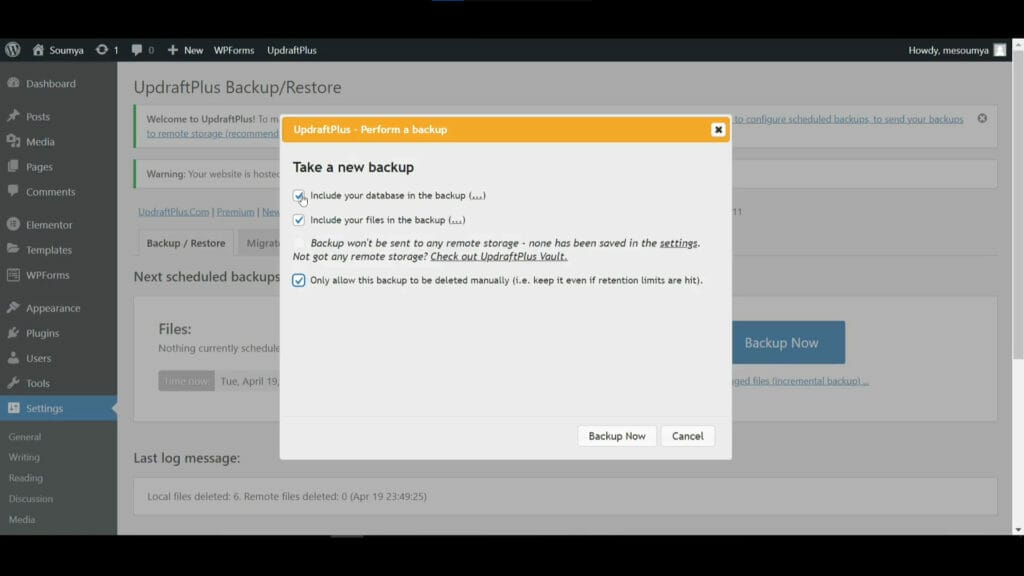 After that check all of these and click on backup now, then the backup will start automatically. You have to just wait to finish the backup.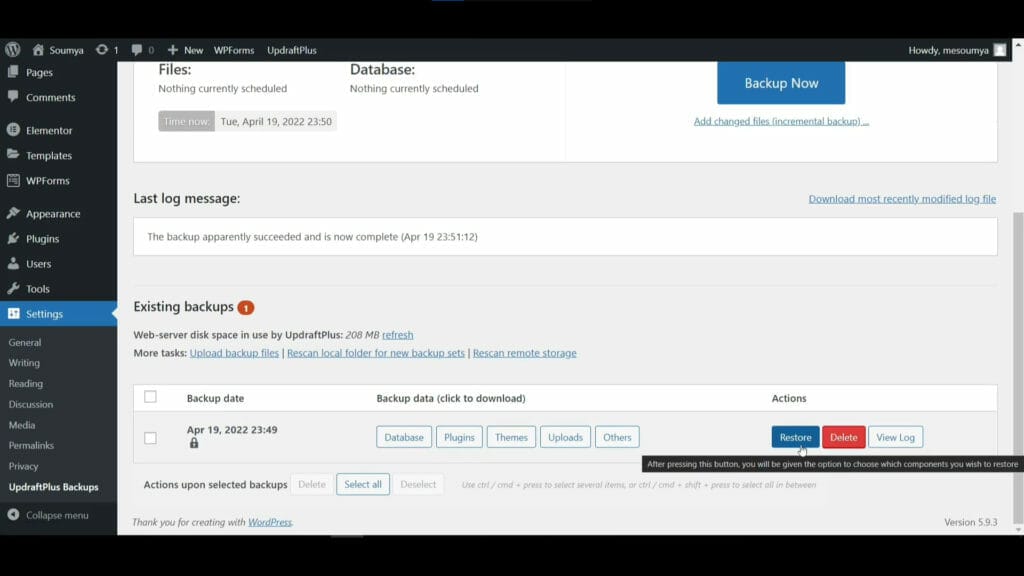 After finishing the backup you will see a file is created on the existing backup option. Here updraftplus create five files for our website means database, plugins, themes, uploads, and others. So, after clicking on every data, the download option will available for us so that we can download all files on our computer.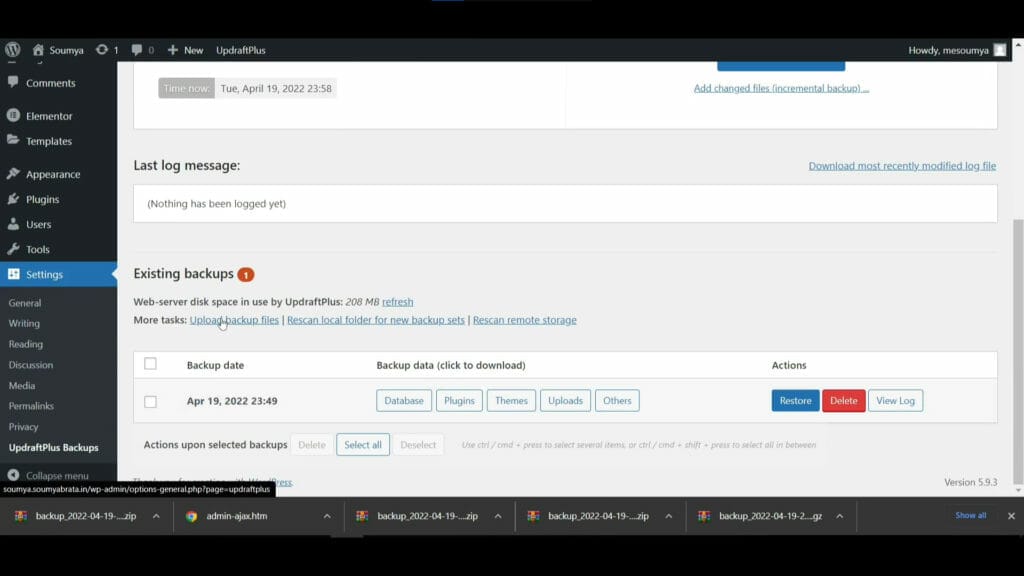 So, for example, your website crashed or the website is not opening, so, suppose here I have reset my wordpress website and just to show you how you can get back your website within few minutes.
Here you will see three buttons means to restore, delete and view the log on the right side of the window. So, if you wanna get back your website in one click then just click on restore, or if you don't see the buttons you can manually upload the backup files from here like above the image.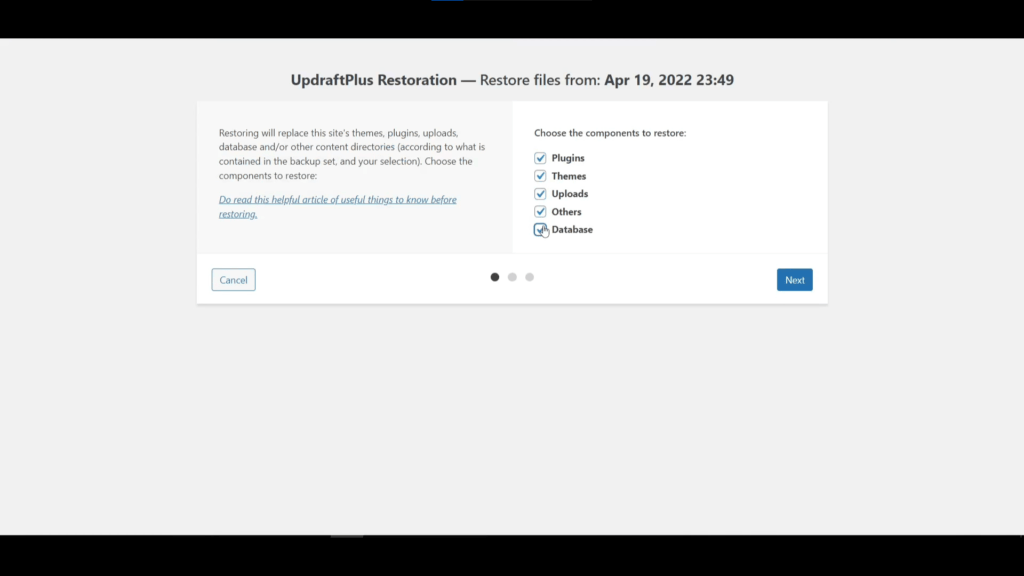 So, here in this case I clicked on the blue restore button and after that, we have to check all of this and click on next and then click on restore button and wait for complete restoration.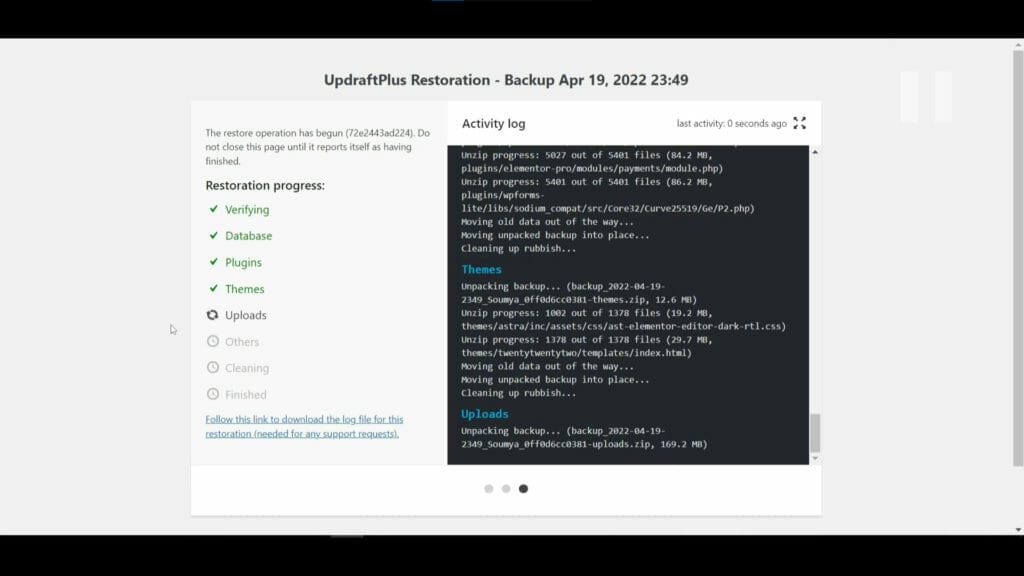 So, it depends on your website and how big your website file is in size. So, after completing the process your website will be back like before. That's the process of how you can backup and restore your wordpress website.
BOTTOM LINE
Backup is most important for your website. In this blog, you have learned how you can create a backup and restore your website in a few minutes.
The most important thing is that WE MADE A VIDEO ON HOW TO BACKUP AND RESTORE WORDPRESS WEBSITE, here's the link, you can watch this you will better understand: https://youtu.be/Dqra4oCe6Yk
That's all there is to it! We hope that you've learned something new today and that you'll be able to apply it to your own website. If you like it then share this post and if you have any questions or feedback on this blog, please leave them in the comments, or you can comment on youtube, we will reply to you shortly!
Back