Tapps Review - Harness The Power Of A No Code Website And App Maker
With Tapps, you can easily add interactive quizzes, videos, polls, surveys, and more to any site with just a few clicks of the mouse.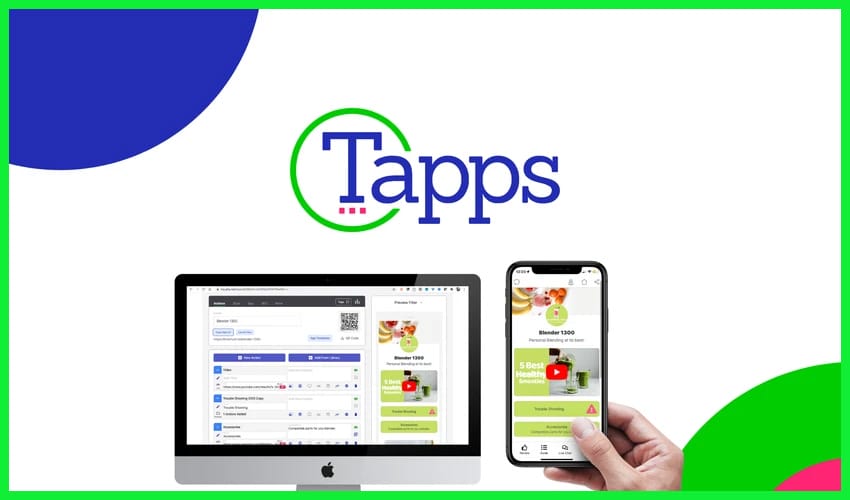 Tapps Review - Harness The Power Of A No Code Website And App Maker
Using a CMS or building your own site from scratch can be expensive and time-consuming.
Tapps allows you to create branded content without writing code, which is perfect for marketers who don't have the time or budget to build sites from scratch.
With Tapps, you can easily add interactive quizzes, videos, polls, surveys, and more to any site with just a few clicks of the mouse. They give you everything that's needed to quickly launch digital experiences on any device including responsive templates and an all-in-one mobile app builder.
Tapps Pricing
Their pricing plans are simple and straightforward. The free plan includes all the features you need to get started, while the pro plan offers even more powerful options. If you need even more control or want to use Tapps as a backend platform, their enterprise plan is perfect for you.
Tapps offers three pricing plans: a free plan, an enterprise plan, and a 5$ per app per month pro plan.
The free plan includes unlimited links, contact actions, style options & templates, an icon library, profile image, title, and bio. You can also save the app to your home screen, have a custom URL with a domain of your choice, and an SSL security certificate.
The pro plan includes everything in the free plan, PLUS multiple apps in account, multi-user or role-based admin, custom icons and app name, menus, footer links, header image, call-to-action images, selectable image positions, social embeds, video embeds, RSS feeds, subpages, microsites, carousels, attached files, a built-in PDF reader/printer, vCard, an unpublish app, in-app messages, a map action, rich text capabilities via HTML5 tags for font style and size. Tapps also offers action scheduling and formatting for desktop displays.
The enterprise plan includes everything in the pro plan PLUS custom pricing models, a customized dashboard, personalized versions of your apps at scale, the ability to use Tapps as a backend platform, and API support. Tapps also offers one-on-one account support in the enterprise plan.
Appsumo Lifetime Pricing
Appsumo is offering the lifetime version of Tapps at a one-time payment. You'll get access to all of Tapps' features on single live websites. You'll never have to pay another cent for any future updates or changes, and you can use it as a backend platform.
This offer is exclusive to Appsumo customers only.
Tapps Features and Benefits
Creating a custom URL for your app is easy with Tapps.
You can use your own domain name, or choose from a selection of domains to create a unique ID for your app.
This memorable link will help you attract more clicks and represent your digital experience.
Tapps also lets you build an app with custom, branded actions that work across all devices.
Add links, videos, menus, and more to create a powerful and intuitive experience for your users.
Plus, you can store actions for later and share them between apps to streamline content updates.
Creating SEO-friendly apps that are discoverable through popular search engines is a great way to increase exposure for your business.
Not only will you be able to track detailed engagement metrics, but you'll also gain insights to optimize your campaign.
Plus, content sharing makes it easy to deploy apps at scale while still measuring individual engagements.
You can even create a master template and clone it to deploy as many versions of the app as you need.
Tapps is Best For
Tapps is Best For Small business owners who want to establish their brand with custom, interactive apps that promote engagement.
Tapps is Best For solopreneurs who want to create a single app with embedded content for their business.
Tapps is Not Good For
Large businesses who want to create an enterprise app with complex functionality or multiple apps.
Tapps Alternatives
ManyRows
Many row is a self-service platform that lets you create native apps, custom URLs, and more to promote your business.
Appy Pie
Appy Pie is an online platform that allows you to easily create apps for any mobile device.
Mondo Apps
Mondo Apps is a highly customizable app platform that lets you manage, distribute, and publish your own native apps.
Mobile Roadie
Mobile Roadie is an enterprise-level platform that includes digital marketing tools, analytics, and more to drive customer engagement.
User Reviews
A fascinating approach to create simple PWAs

It is a fascinating approach to create simple PWAs, like: digital brochures, social bio link, business apps, event apps, small product guides.

It has unique and interesting features, like:
1. The building blocks of an app are what they call "Actions". The neat part is that once you create an action, it is added to the Actions Library and you can use it in multiple apps (or on multiple SubPages). When you update an action, it will be updated everywhere, instantly.
2. Another interesting feature is that all actions have metrics (there is no need to connect 3rd party analytics tools).
3. Even if it is not mentioned, the App Builder itself is mobile friendly (at least 95% of it - the metrics screens and some modals still need a bit of work). So, in other words, you can create or edit your App/Actions on a mobile device.
4. The Audience feature is again something unique. You can target to show/hide specific Actions to different audiences. Basically, you can filter/target users by: application type (browser/app), mobile os, device, push optin. I hope they will extend this feature in the future.
5. There are a few advanced Actions that you don't usually see in tools like these, like: Simple webhooks and forms

Thinks that I would also like to see are:
- Dynamic content: to be able to connect to a Google Sheet/API/Airtable to have a dynamically generated list/grid (something like what SpreadSimple is doing).

- luciandesign, Appsumo User.
I See the light at the end of the tunnel 🚀

YES UI needs some WORK, the good news is: not that much is needed, the foundation is solid!
Right now everything stands out (outdated style) instead of blending in like a good design should.
Here are some suggestions:
- ALL frames -gone ☑️ Richard promised ( ON or OFF)
- Slider ( with finger left and right) ☑️ Richard will take care of it 😉
- Get Connected -Social - ability to change colors (background and icons) so everything blends in not again boxed in 🥴
- Eliminate clicks, KEEP (action) on original screen (often app asks questions like (on Android) with iPhone, l "Do you want to allow this" after you click Done it takes you to same screen 🤬 ( white with gray pill button🙀. There's no way to exit this screen QUICK, no X, you've to find the arrow to go back (a verrrrry painful experience) -white with gray pill button🙀 must go!
- Can't resize FONT and ICONs- they sometimes look very small- maybe 1-2 size options?
- Profile picture bigger or maybe 1-2 size options? Popup ?
- HEADER IMAGE - Eliminate (hard line) /fade in function ( ON - OFF)
- add FOOTER IMAGE Eliminate (hard line) /fade in function ( ON OFF)
- QR real estate very unused page, and ugly, why? can be used for SHARE ( nearby, copy link. etc)
I'm sure there is more :) BUT I like the backend, this app has a LOT of potential as long as company continues to develop the product 🚀

- JJJJ, Appsumo User.
Conclusion
With Tapps, you can quickly and easily create intuitive apps that showcase your brand.
It's simple, flexible, and scalable to fit the needs of any business or campaign.
Get lifetime access for a one-time payment with Appsumo!
Back