Powerful YouTube SEO Guide: Rank YouTube Videos in 2020
YouTube is the second most visited website after Google, based on Alexa traffic rankings. Sadly, many digital marketers still regard this as every other social media website. But on YouTube, success is not about uploading content, but about optimizin...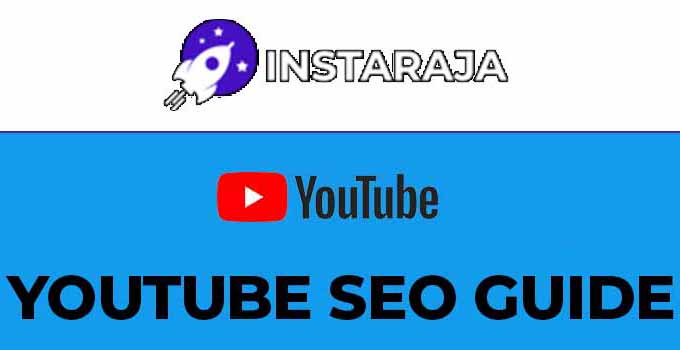 Powerful YouTube SEO Guide: Rank YouTube Videos in 2020
YouTube is the second most visited website after Google, based on Alexa traffic rankings. Sadly, many digital marketers still regard this as every other social media website. But on YouTube, success is not about uploading content, but about optimizing content, just like your website.
It is easy to find millions of videos with almost no views that are exactly the same. The difference between success and failure always lies in a few factors.
With YouTube SEO, several optimization works can be integrated into a method that can be applied to all of your old videos and then to each video when publishing. And that process is about to be explained.
This is what you need to know if you want your Youtube channel to grow. Before we get started on YouTube SEO, we will see some of the free and premium YouTube tools you can use that other big YouTubers use.
Free and Premium Tools You can Use:
VidIQ: The YouTube SEO analytical resources that help you accomplish your goals and learn what your channel needs to change. Very Good Tool to Check.
TubeBuddy: It's a best friend of YouTuber's, lets you streamline your everyday YouTube SEO process, and handle your content overall.
Fiverr: You can hire YouTube experts to Rank your YouTube videos at a very cheap price starting from 5$.
Canva: Use Canva to quickly create free YouTube thumbnails with free templates and designs. This tool is mostly used by YouTubers and Instagram Influencers.
Social Blade: social blade provides the YouTube SEO data-driven rating and analytics, not just for your YouTube channel but also for competitor channels.
Bitly: You can use this tool a lot to share your YouTube video links. Bitly lets you take a long URL and make it a small, quick link.
Creating Channel
Name of the channel:
The name of your YouTube channel should give the viewer an idea of your channel.
Method 1: It's advisable to suffix words such as "workout," "garden" or "food" in the name of a channel, in order for the audience that is inclined to learn more about the workout to enter your channel unfailingly. Your viewers will not find you if you only hold your name as the name of the channel.
Method 2: You can choose a name that represents your channel values if you don't have a particular channel genre. Here, for your channel name, you have all the eccentric and creative independence. It can only be a mediocre name.
The name of a YouTube channel is similar to the name of a business. Brand strategists work in an organization to match the brand name and logo and slogan. Companies expend too much time, art, and technology to derive their names. Your YouTube channel is your own business! So why not make a little effort? Have a name that separates itself from the crowd.
Tips in Selecting Name:
Search channel names of competitors. Sit down with a pen and a paper (or Tech Savvy Tab), write down keywords that are under your channel niche. Circle the terms that can be mixed together. Do wordplay. Do Add a few thousand words. Mix-and-match now. Now. And derive a term for a channel that can shift mountains.
Simply, you need a significant, unique channel name. It will improve your exploration for the audience on YouTube.
Channel About Section:
Does your "About" channel still support the YouTube algorithm? Heck yeah, it does! A search engine on YouTube crawls the "About" section of your channel, "Video Names," "Video Descriptions," "Video Tags," and any non-anonymous activity.
Crawling the "About" section of your channel lets YouTube understand your channel. In return, YouTube favors you by showing your video to searchers on YouTube who are looking for the words you listed in your channel About, video name, description, and tags.
But make sure keywords are not stuffed! Try to write a straightforward and truthful channel "About." Section. Your "About" Section of the channel bio should include the topics you will discuss in your videos.
If you have a tutorial or tip channel, the subject names (e.g. the episode names), the history confirming your reputation as a mentor, your story (which has driven you to start this channel), and your valuation proposition (what makes your channel the best).
Write a special plan for value. Explain why people should watch your video and not your competition. Explain clearly the benefit your audience gets from seeing your videos.
In short, ensure that you write an insightful overview with relevant keywords that represent the value of your channel.
Channel Email:
If your channel exceeds 10,000 subscribers, brand sponsors and product companies could try to reach you for sponsored content. You definitely don't want to miss such a chance.
Your channel e-mail is your networking portal to your audience and to future brand agreements. Therefore, ensure that your e-mail ID allows your audience to approach brands/sponsors. This will help the company expand tremendously.
You can add more than one email address with YouTube channel email features. You should add several emails to ensure that these chances are not overlooked.
Create video in HD Format
Okay, so many excuses emerge when it comes to video quality, particularly loads of excuses about the budget.
Try to create a 1080p HD video at least. Try to invest in the right camera setup. It's always worth getting a stellar video quality.
Briefly, the good equipment investment is a worthwhile investment. Your viewers will appreciate your video's crystal clear consistency. This would also automatically help you to increase the retention of the public.
The Video file name will be the main keyword.
After you define keywords that you want your video to concentrate on, you must first insert a keyword with its file name. The YouTube algorithm simply doesn't "see" your video to ensure that it is important to your keyword.
Yeah, it makes a difference. For example, if you upload the video, change the default name of the file to "Youtube SEO hacks.mp4" from "yt54454546.mp4." Google automatically concentrates on your video title's keywords. As simple as it sounds, this will help to significantly increase your video rating.
Video keywords appear to include terms like "how-to," "analysis," and "tutorial." Google reserves part of the first page for video findings with video keywords, recognizing the growing value of rich media for Internet users. By using these keywords to refine your metadata, you can directly get targeted traffic from Google's first list.
The title will be the video file name
Youtube allows for up to 100 video title characters, however the new search result update by Google — after dropping the right track of paid search ads — limits the majority of titles to around 70 characters.
Don't cover the headline. It is important to present the most convincing information in the heading. A decent size? Keyword 1 + Keyword 2 + Your Channel name
The subtitle will be related to keywords
Google (or another search engine) can not actually watch a video. The only detail they will get is texts (e.g., video title, definition, keywords, annotations, appeals). The depth of your video keyword increases with subtitles – your content gets indexed even by keywords not shown in tags, titles or descriptions, but in subtitles.
More benefits for using video subtitles
The addition of subtitles makes it possible for people to watch videos even when the sound can not be played, for example during office work time, public transportation, or late at night. Subtitles offer people more choices for watching your content whenever they wish.
Make the content available to anyone who can not hear normally. According to estimates, about 14% of adults between 45 and 64 years suffer hearing difficulties. Of course, it would be a plus for you to give those people the opportunity to enjoy their content.
Some social media sites like Facebook and Twitter automatically play videos on news feeds without music. If you use video subtitles, this should not be less entertaining for your viewers. The text they see in the video player makes them understand your subject better and motivates them to watch the video in its entirety with sound.
Attract international viewers. Make your content successful by spreading video coverage to more pages. You can translate your video into an unlimited number of languages with video subtitles and allow your audience to choose the one with which it is most comfortable.
Give some related tags
What are YouTube Tags?
YouTube tags are the words and phrases that are used to define YouTube about the video content. Tags are considered to be an essential factor in the search algorithm of YouTube.
Why are tags very important?
Like any metadata, your tags provide YouTube and Google with information about your video. including your video title, description, and more.
And a recent industry study found that YouTube tags have a low, but important relationship with YouTube:
This is how you can improve your video tags.
First Tag = Main Keyword
YouTube pays careful attention to the first few tags when it comes to video SEO.
(Particularly your first tag)
The first tag is equivalent to the keyword goal
Make sure your first tag is the same word-for-word keyword for which you want to rank.
However, it is also important to use broad tags. Broad tags help to provide YouTube with an essential video background.
End Video with a Question related to content.
If your videos receive many comments, then your videos are famous on YouTube.
Like Google, YouTube gives priority to famous content. Comments are one of the tests used by YouTube to determine what people like the most.
It's a good idea to finish your video with a question to start a conversation.
Title and Descriptions in YouTube SEO
The video title goes with the main keyword
Your title is (by far) the most significant piece of metadata in your video.
That's why when it comes to SEO video, it is absolutely important to include your keyword in your video title. Make sure you don't change the keyword, too.
YouTube also gives more weight to words that appear in the title early. So put your keyword in the beginning of your title when it is meaningful.
Optimize your CTR title
The click-through rate (CTR) is a major ranking factor for YouTube. By several users clicking on your result, that tells YouTube, "This is a video that people would like to watch for this keyword".
Here are some tips for improving your CTR title:
Add a number: You can considerably improve CTR by using a number in your description. For instance, if your video contains five tips, include in your title the number "5."
Use attention-grabbing terms and phrases: If your video makes sense, enter an eye-catching phrase term. For instance, "WOW" or "I cried."
Get Emotional: Studies show emotional headlines earn more clicks and share.
Optimizing video description:
Up to 5,000 characters are allowed for the video description. It's a lot of space and you can definitely use it, but there are some guidelines to support. The search engine results show the first few lines of your summary. The first three lines are also the only part of your explanation that you can see without anyone clicking on the button "display more."
You must define and sell your video content in these first few lines. You should try to include the primary keyword in these first few lines, at least once. Attach to the URL of the video page you want people to visit. This could be your website's homepage or a landing page designed specifically for that video. To make your URL clickable, enter the URL as 'HTTP:/,' not 'www.'
Have relevant detail about the video and its contents in the rest of the summary. You may want to include your channel details. Additional URL links can be added to allow people to visit your video.
Finally, 2 – 3 times throughout the summary, add your primary keyword.
Provide links to social media such as Facebook profile, group, and the Twitter link like "Follow us: Google+ Facebook"
Give a Youtube subscribe link: "subscribe to our channel - Link"
Need a Readymade Template for the Description?, Download the YouTube SEO Description Template here.
Thumbnail Matters in YouTube SEO
In reality, a video Thumbnail is more important than the title for attracting a YouTube search click. Even if You do everything else perfectly with your SEOs, nobody will click on your video if you have an unattractive thumbnail.
Think about it: The thumbnail is the only picture that gives users a sense of what their time is going to spend in watching. If it looks unprofessional or boring, people won't take it for granted.
Recommended:
Name it with the main keyword.
Make it interesting.
Make sure it's bright.
Make it Little Clickbait.
Not Recommended:
Get a logo that's distracting.
Using color clashing.
Have a random, unprofessional look.
Thumbnails are full of only texts. Use random Graphics.
Default video upload setting:
Set as unlisted
Set category
Set Language
Do off-page SEO within a day.
Backlinks:
Try to get a few cheap backlinks for your video.
Social Signals:
Add your video to Other social media sites with a link to your youtube video.
Embed your video on Your site.
If you have your own website related to your youtube niche, then Add your video's Embed code on site. Enable visitors to view, share, and comment on your videos on your website. You can add videos to written posts such as visual student tutorials.
When your video is embedded, it appears seamlessly on your website to encourage viewers to click play, pause, or even share the video without leaving your page.
Get A Few Views.
Make a minimum of 10 instant views within 24hrs anyhow but do not yourself.
Once these all are done, publish and monetize it.
Upload in Facebook
By uploading your videos on other video sites such as Facebook, IGTV, or Vimeo, you can reach a wider audience interested in your content.
While most advertisers still say that they prefer YouTube over Facebook (87 percent vs. 68 percent), the study speaks for itself. In your description, you should put a link to subscribe so you can take some subscribers along the way.
Use VidIQ
VidIQ is one of the most commonly used YouTube SEO analytical tools to help you accomplish your results and to learn what your channel needs to change.
Learn how to drive traffic to your webpage and Website from your YouTube videos. You'll also get hints, suggested titles, and detailed explanations from YouTube SEO to make your videos more attractive.
There is a free account, but if you're really interested in increasing your YouTube channel then invest in pro access to unlock additional features to attract more subscribers.
Summary:
On YouTube over five billion hours of videos are watched every single day, from online tutorials to shows, podcasts, and upcoming actors and influencers who want to be seen and heard.
YouTube is the second-largest search engine in the world and SEO is important for your performance and exposure as for all search engines.
Here is a free YouTube description Template you can use in your videos.
Word of alert, this isn't it, if you're looking for a fast money-making scheme. YouTube SEO is the same as any other SEO — the time is needed to make an impact. Then you will start ranking over your online competitors as time passes.
Back