How To Create Image Masking Effect Using Elementor
In this blog I will show you how to create an image masking effect. This post will show you how to add masking effect to your images.
How To Create Image Masking Effect Using Elementor
If you do something unique then you can stand out from others. That's why here in this video I will show you how to create an image masking effect instead of using the same square shape image. Here is the used elementor free version so, if you don't have elementor pro also you can apply it on your own website.
So, we will learn the full process with a few steps so let's begin:
Place the image
Custom Masking
Bottom line
STEP-1 PLACE THE IMAGE
Here I have made one section as like before the premade section. From there I copied the text and paragraphs and button because it is the basics of elementor, I don't wanna repeat it again. If you don't have any idea about this then you can check out our blogs and you can check out our youtube channel:
Here I create a gradient color background on the main section and put headings, paragraphs, and buttons and customize them. So, after customizing all things place the image where you wanna put it here I place the image on the right side of the column.
STEP-2 CUSTOM MASKING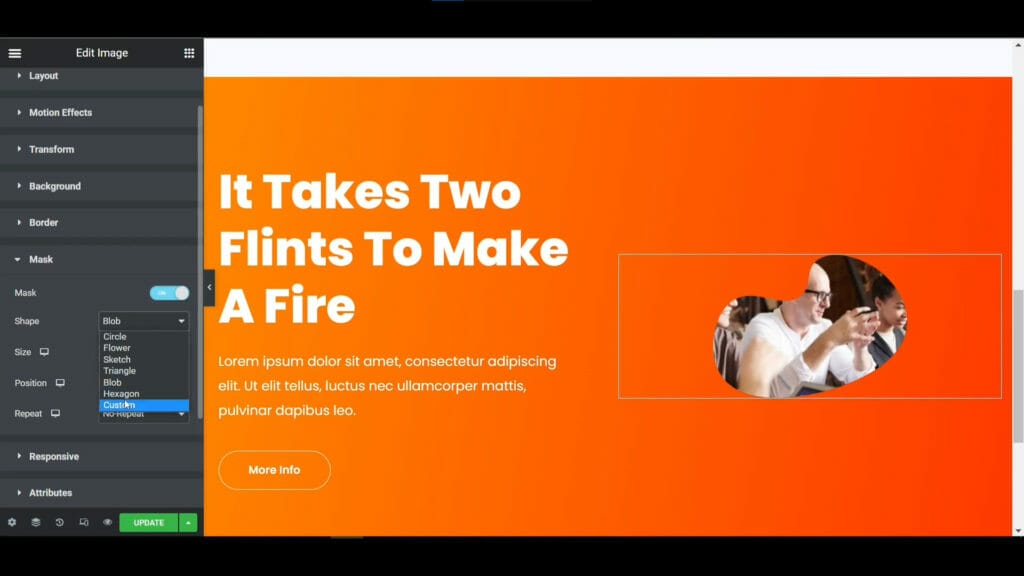 To create an image masking effect first click on the image and go to the advanced tab and scroll down you will see the mask option will there. Just click on it to expand and then choose your favorite shape. There are only a few shapes available like circle, flower, sketch, triangle, blob, hexagon and at last the custom.
Here's the magic of the image mask in elementor in the custom mask option where you can upload your own custom shape as your wish. You can create your own shapes by using photoshop and other tools, also you can get the masks on google.
Here for an example, I upload a mask by choosing a custom shape. As you can see above the image after I choose the mask here you will get 3 options to size it to fit, fills, and custom. If you choose the fit option so it will look so small and if you select the fill option it will overlap with the column that's why I suggest you use the custom option for that you can increase the size of the mask as your own wish.
After choosing the size you can change the position as well which you can see above in the image. Also, you can the image size from the content tab. So, here is the process of how you can create an image mask in elementor.
BOTTOM LINE
So, here in this blog, you have learned how you can create an image mask in the elementor free version. If you use this image mask on your website instead of using a square shape image or circle shape, it will extend your website look more beautiful than before.
The most important thing is that WE MADE A VIDEO ON HOW TO CREATE IMAGE MASKING EFFECT USING ELEMENTOR, here's the link, you can watch this you will better understand: https://youtu.be/eC8vQFYMGGo
That's all there is to it! We hope that you've learned something new today and that you'll be able to apply it to your own website. If you like it then share this post and if you have any questions or feedback on this blog, please leave them in the comments, or you can comment on youtube, we will reply to you shortly!
Back