7 Tips for Hiring the Best WordPress Web Designer
If you're looking to hire a WordPress designer, these seven tips will help you find the best person for the job.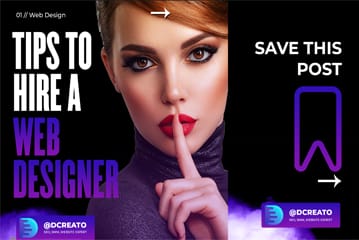 7 Tips for Hiring the Best WordPress Web Designer
If you're not a creative person, it's definitely worth hiring a web designer for your WordPress blog. The designer will be able to implement your ideas and transform them into code.
They will also be able to tell you which plugins are the best for your site, what kind of content formats you should use, and more.
What to Ask Yourself When Selecting a Web Designer?
The web designer is one of the most important investment you will make for your business. You need someone who is able to do the job well and you also need to be very clear on what you want. Here are some of the questions that will help you in your search for a perfect web designer:
What's Your Budget?
When it comes to budgeting for a new website, there are a lot of factors to consider. These include your business goals, the competition, and more. It is important to do your research before you set a budget so you can decide what is best for your needs.
How Long Do You Need Your Website To Last?
Websites have a limited lifespan in the modern world. They are constantly being updated and changed to meet the demands of the digital age.
This means that there is no set time requirement for how long a website must be up before it reaches the end of its life. Some people say that 2 years is sufficient while others say 10 years. It all depends on what your website is used for, how often it changes, and how much traffic you receive on it.
What Type of Website Do You Need?
There are many different types of websites out there, each with their own distinct set of benefits. Below, we will be discussing three most common types of websites: blogs, ecommerce websites, and content management systems.
Blog
Blogs are a great way to share your thoughts with the world in a more personal manner while e-commerce websites allow you to sell your products online.
A blog is a website that contains articles on a particular topic, with these articles usually being in reverse chronological order. Blogs are usually updated regularly with new articles and can cover a wide range of topics.
Blogs have become an important form of journalism and are often read by people who would not traditionally be following the news. Blogs also tend to have more relaxed standards for sources, as they only require the blogger to present their own understanding of the information. It is important for bloggers to provide factual and unbiased information as well as opinions and interpretations for their audience.
Ecommerce website.
An ecommerce website is an online store that sells goods or services to customers. The website can be used as a catalogue to showcase the company's products and services, or it can be used to sell them directly online.
This type of website typically has a shopping cart interface to allow the customer to select items for purchase, and credit card checkout functions for payment. It may also have features such as inline bloggers that provide reviews, video presentations, how-to content and interactive product comparisons.
CMS website
A content management system is software that helps in managing website content. It manages the layout, style, and other content of a website.
A CMS can be used to update the design, text, and images on a website without having to have any knowledge of HTML or other code.
Will the Web Designer Be Responsible For Adding Content Now And Then?
Web designers may feel like they are getting less responsibility than in the past. However, they are still a key part of the content team. They not only need to design and create visuals that will be used in the final product but they also need to take care of adding content from time to time as needed.
Web designers have no control over how a website's content may be used, so it is important for them to stay on top of any changes that happen with the site's strategy or marketing campaigns. The designer may need to create new visual assets based on these changes, which can include altering ads, landing pages and other resources. Web designers should also know when it is appropriate for them add content such as blog posts or marketing copy.
Web designers have an increased level of responsibility around ensuring that their designs are accessible to people with disabilities.
Will The Web Designer Be Responsible For Advertising The Website On Social Media?
The original website designer might not be the best person to run social media campaigns. There are many other skills that are required in order to generate attention on social media.
The web designer might not be the best person to run social media campaigns. There are many other skills that are required in order to generate attention on social media such as psychology, copywriting, and advertising
Before Hiring a WordPress Web Designer, ask these 5 questions
Running your own blog/website can be a difficult task. There are so many things to think about from the design, to the content, and even to the organization of pages. WordPress is one of the most popular blogging platforms today. This section will give you some advice on how to make your decision easier when hiring a WordPress Web Designer for your website/blog.
What type of websites have you designed before?
Do you have experience with WordPress ?
What is your design style?
How many years of experience do you have?
What are your rates?
7 Vital Things to Consider Before You Hire a Website Designer
​If you're looking for a website designer, it can be difficult to make the final decision. Even if you only need a few pages, there are plenty of things to consider before hiring someone. Here are 7 vital things to consider before you hire a website designer.
Consider the reputation of the company
You want to make sure that any company you are considering hiring has a good reputation. You don't want to hire someone who does not have the best interest of your business in mind, and who might not do their utmost best work for you.
Do they specialize in web design?
It is important to find out if they specialize in web design, or if they do many different types of work such as graphic design and marketing services, too. Web designers often know what they're talking about when it comes to how people use the internet, but they're still learning as new technologies come out.
Consider their Expertise in Web design
Nowadays, web designers are not just restricted to designing. They are more involved in the whole process of website development. Their expertise also includes installing a website and setting up the backend part as well.
Web designers need to be skilled in many areas such as UX, graphic design, and coding languages like HTML, CSS, and JavaScript to name a few.
Portfolio of previous web design work
A portfolio of previous work that demonstrates my proficiency in all areas of web design and development, including:
-Responsive page design
-User-friendly navigation
-Easily managed websites
Potential to solve your problem
Designing a website requires a lot of creativity and technical knowledge. However, to solve a problem you need a super confident. You can test them by giving any of the small task mentioned below:
• Generating ideas for website layouts
• Generating content ideas for your website
• Creating mockups or wireframes of your designs
Pricing Structure for web design
Pricing a website design is a difficult process. Designers want to make sure they are charging the right amount for the project, but also not undercharging or overcharging. The client wants a final price that they can afford and will be worth it.
In order to make sure you are coming up with the right pricing, you need to take into account the following: time needed for development, complexity of content on site, number of pages that need design, number of revisions required by client.
Work ethic
Web designers need to have a certain work ethic in order to succeed in the industry. They need to be willing to learn the nuances of programming languages like HTML5 or CSS3 which are integral for web design and development.
In order to provide good customer service, web designers need to be able to work with people with varying skillsets and personality types. They must also have the ability to multitask by switching back-and-forth between different design programs or files on their computer in order create a website that's aesthetically pleasing as well.
  https://dcreato.com/blog
What is WordPress?
WordPress (.org) is free, open source software that allows you to easily and quickly create a blog.
Meanwhile, over 39% of all websites worldwide (!) Are operated with WordPress, which makes it by far the most widely used platform.
With the help of themes and plugins you can design and expand your website completely according to your wishes.
The
WordPress.com service
is also based on WordPress, with the difference that it is less flexible, offers fewer functions and you cannot intervene in the source code, which is why I advise against it.
Back