5 Things You Should Check Before Building Your Website
Your website is your online window to the world. You need to check out these 5 things before you build your site.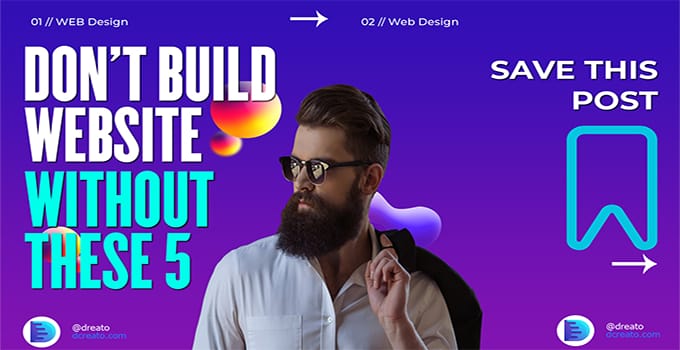 5 Things You Should Check Before Building Your Website
Don't build Your Website without these 5 things.
A website is the online representation of a business. It's what brings in potential customers and converts those potential customers into actual customers. 5 Things You Should Check Before Building Your Website.
1. Your Target audience.
Your target audience is the group of people who you are trying to reach with your content. It is important to know who your target audience is before writing a piece of content because it will help you focus on what they might want, what they might not want and how to write it in a way that they will understand.

Your target audience is the demographic you are trying to reach. You should know who your buyers are and what they are looking for your product. The better you understand them, the easier it will be to offer them a better product that suits their needs.

In order to find out who your target audience is, ask yourself these questions:

-Is my product a good fit for this demographic?
-What type of people do I want buying my product?
-What does this demographic like or dislike?
-What don't they like about my product?
-What do they need in order to buy from me?
2. Your Marketing Message
Your website marketing message is a crucial part of the foundation for your company. It should be concise and have the desired effect on your users. Your goal is to get them to convert into customers, and if they don't make it happen, then it's up to your conversion rate optimization strategy.

The message you want to convey is much more complicated than just a single sentence. The content needs to be clear, concise, and easily readable for elderly people or those who are not native speakers of English. The content should also highlight what makes you different from other companies in your field - so that potential customers are convinced that they need you as well.
3. The Purpose of your Website
The purpose of your website should be clear to all types of visitors. It is important to have a domain name that matches the purpose of your website. For example, if you are selling shoes, then a domain like www.shoes-store.com would best suit your needs.

If you want to make a brand statement with your site, then use a shorter and more memorable domain name like www.jordanshoesaleonlinebuy.com or www.nikeonlineoutletstoreusdall.com
4. How Your Site will Make you Money
There are many different ways that a company can make money from their website. There are a huge number of products and services that you can sell to your customers, or you can also earn money from the advertisements on your site.

Some companies do both of these things. They might sell their own products or services, and they might also run ads on other people's websites to increase traffic and generate more income for themselves.

At the end of the day, it's all about finding what works best for your business model.
5. Your Brand Identity
This section will discuss the roles of branding in your personal and professional life.
A well-defined brand identity is an essential part of any company's success. It is a set of specific elements that make up the personality of a business or organisation.
If done correctly, it creates a sense of belonging for customers and helps them recognise and identify with a certain company.
Your Website Shouldn't be for show
Designers and developers are constantly trying to make websites better and more attractive. This might be a good way to engage visitors but it does not work as well for search engine optimization or conversion rates. Making your website too flashy could actually hurt your business.
A design is not the only factor that will determine if someone converts on your site; the content, specifically the text, is just as important in making a conversion happen.
It shouldn't be something you think you should have
The internet has made it possible for businesses to reach a global audience. In order to be successful in this new era, they need to have an online presence and a website.

Many companies, they don't see the need for a website because they are worried that it will be too costly or that their company is not worth it. However, this mindset is not the correct one to have.

A website can be used as a branding tool that allows individuals to get acquainted with your company and understand what you are about before investing in your services or products.
Moreover, a website also helps your company rank higher on search engines such as Google and Bing which will result in more traffic and revenue for the business. Ultimately, there are many benefits of having an online presence so we should not think of websites
It's the hub of your sales funnel
The website is the hub of your sales funnel. It's where your visitors come to learn more about you and where they eventually make a purchase.
The layout of your website is one of the most important factors in conversion rates because it has the ability to either get them excited or scare them off.
It should make you money. NOT Cost you Money
Every website needs to have a purpose for being. It needs to provide the visitor with something that is worth their time. Otherwise, you're wasting your time on a website that doesn't make money.
A website can only make money if it has visitors and provides them with something of value in return for their time. If your site doesn't have any visitors or if it has too few visitors, there's not much revenue coming in and therefore not much profit either.
Back